Highlights of the best of Ecuador's rainforest birding at Sacha Lodge combined with two exciting destinations in the Andes, the Mindo/Tandayapa area and San Isidro.
Enjoy a slideshow of images from participants on our 2013 tour.
This two-week itinerary promises a productive and fun visit to three famous venues in this small but amazingly bird-rich country. We'll have a five-night stay at Sacha Lodge (with its three canopy towers, wonderful parrot licks across the river, and myriad birds) in the Amazonian lowlands, as well as three nights each at two other well-known locales in the beautiful Andes: Septimo Paraiso ("Seventh Heaven") Lodge, on the west slope of the mountains with close access to both famous Mindo and the Tandayapa Valley, and San Isidro Lodge, featuring a significantly different and equally rich east-slope avifauna.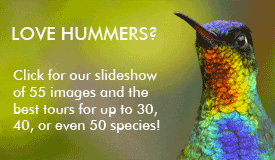 We can expect to encounter a fabulous diversity of tropical birds, from stunning hummingbirds and dazzling tanagers to eye-catching cotingas, raucous parrots, and handsome antbirds. Highlights of past tours include dozens of dazzling hummingbird species, from Booted Racket-tails and Velvet-purple Coronets to Violet-tailed Sylphs and Tourmaline Sunangels; Long-billed Woodcreeper and Cream-colored Woodpecker along a cocha; owls from Tawny-bellied Screech- to Crested to the enigmatic "Black-and-white" type that Mitch Lysinger has been observing at San Isidro; a hard-to-find Collared Puffbird; the always amazing Plate-billed Mountain-Toucan; brilliant Andean Cocks-of-the-rock on their leks; Crimson-mantled Woodpecker and Plushcap among numerous species in several fantastic mixed flocks; a wonderfully close Tawny Antpitta; and many flashy tanagers. Join us for a fabulous fortnight in Ecuador!
Would you like to extend your Ecuador visit with a day or more of additional birding or cultural options with a local guide? Check out the various possibilities on our Ecuador: Add to Your Tour! page.
Download an itinerary, triplist(s), request space, and see more about this tour...