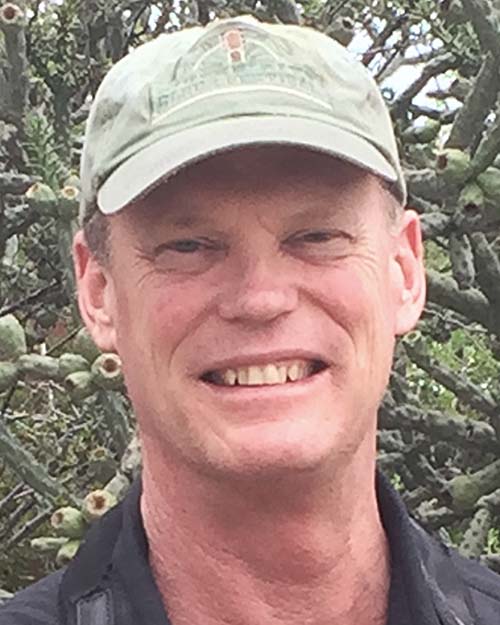 Dave Stejskal's love of birds took firm root at the age of nine. After teenage years consumed by birding and basketball, he went on to graduate from the University of Arizona in Tucson, the desert city he and his wife, Julie Hecimovich, call home. Dave is particularly skilled at identifying birds by their songs and calls and eagerly shares his knowledge with others.
Since he joined Field Guides in 1985, Dave's more than 300 tours have taken him north to arctic Alaska, south to Tierra del Fuego (guiding tours in nearly every country in between and of course many to his home state of Arizona), and across the Pacific to Asia and Southeast Asia--including Thailand, Vietnam, China, and Borneo--and his enthusiasm for finding and watching birds has proven to be contagious.
Scroll down to see Dave's current schedule of tours.
Have you checked out our new OutBirding with FieldGuides video series? It features episodes covering not just guided tours of great birds and habitats but also interviews with fascinating bird-folks, field techniques, tools of the trade, field recipes, and much more. This is a long-term venture that will share much of what our guides love about birds and birding, both their own experiences and their tips for enjoyable, enriching field time. Why not subscribe for a modest annual or monthly fee?
Client comment
"Dave Stejskal did an exceptional job. I'd absolutely travel with him again. His experience with the country, the specific locations, and the birds was always evident. But, importantly, in addition to being a good bird guide, Dave is an excellent leader. He was conscious of participants' needs and abilities, which species they'd seen or hadn't seen, and consistently worked harder than the rest of us to find birds. I expected a lot from a Field Guides leader, and he met or exceeded my expectations. Thanks for a wonderful experience." R.L., BORNEO
"I had been on a previous Field Guides trip and was impressed with the quality of the guide and the smoothness with which everything flowed. I anticipated a similar experience on the Borneo expedition and was not disappointed. It was excellent! Dave Stejskal's low key demeanor and humorous anecdotes kept the group in good spirits and his ability to identify, locate and predict the behavior/movements of targeted birds enhanced the experience for all of us. Companies and organizations are judged by the people that make them up and Field Guides has some of the best. Thank you for a wonderful experience in a special corner of the world." W.G., BORNEO
Dave's Upcoming Tours
ANTARCTICA, SOUTH GEORGIA & THE FALKLANDS
Status: Open
Oct 31 - Nov 23, 2022 ($15800) with Dave Stejskal
Tour Limit: 16
The ultimate seabird and wildlife cruise, including fabulous South Georgia and the Falkland Islands. Variable fee depending on cabin choice.