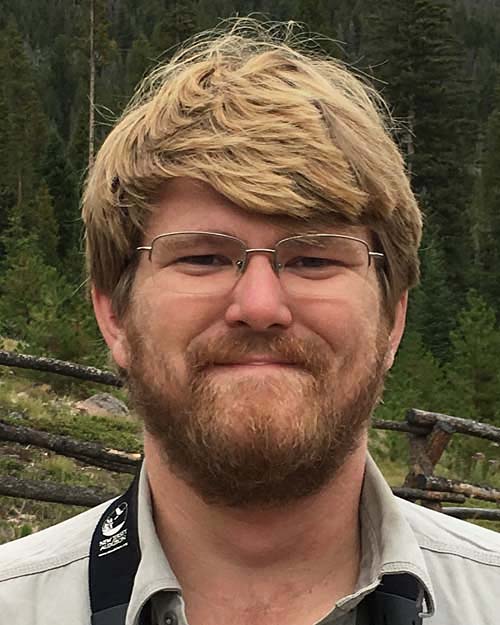 Tom Johnson grew up surrounded by birds in central Pennsylvania. Fascinated by science and the outdoors, and encouraged by his mom and dad, Tom developed an obsession with birds at an early age. He banded migrant landbirds and owls, conducted point counts for the Pennsylvania Breeding Bird Atlas, and set off on many road trips to learn about North American birds.
Tom was fortunate to complete his undergraduate studies at Cornell University within the inspiring orbit of the Cornell Lab of Ornithology. Following university, Tom surveyed desert birds in Arizona and California and studied seabirds from NOAA ships between Nova Scotia and the Bahamas. He is an eBird reviewer, a regional editor for North American Birds, a regular contributor to Birding, and a member of the ABA Checklist Committee.
Now living in Cape May, New Jersey, Tom devotes his energy to recording bird sounds, photographing flying birds, searching for vagrants and puzzling hybrids, night birding, and reading as much as he can. He's an inveterate road tripper and frequently looks for excuses to travel long distances in pursuit of birds and mammals. You might also find him on a boat looking for tubenoses and other seabirds just about anywhere.
Tom loves helping others pursue their passion for birding and the outdoors and has felt lucky to lead tours for Field Guides around the world since 2014. Though he focuses on the Neotropics and North America, Tom has a diverse schedule that includes Antarctica, India, Australia, and more.
Scroll down to see Tom's current schedule of tours.
Did you know our guides and staff are posting videos as a break from the news?
We've created a Take a break with us... web page where guides and staff are posting fresh videos regularly about what they are up to during this stay-at-home period. Check it out at this link (and give yourself a little diversion from the news cycle).
Client comment
"This tour was amazing. Excellent birds, skilled guide, delicious food, and comfortable accommodations. The migration experience was awesome! Guide Tom Johnson is such a skilled birder and a gentleman... I would go to the ends of the earth looking for birds with Tom! He is so informative, not only about bird identification but also about related facts of interest. He includes everyone and shows patience in getting each group member 'on the bird.' Tom oozes enthusiasm about birding, especially when he sees an unexpected bird!! This experience was superior to other tours. I am glad I found Field Guides." B.B., FALL FOR CAPE MAY
"I wanted to go to Cape May and witness spring migration. Field Guides had a tour that worked with my schedule. I don't often go on guided tours...this trip was so fabulous...way beyond my expectations. If I had to pick one best feature it would be the guides, Tom Johnson and Doug Gochfeld. Their birding skills were incredible and they really made this an incredible adventure. Your office service was very good, efficient. I look forward to my next adventure with Field Guides." K.M., SPRING IN CAPE MAY
"Tom Johnson and Micah Riegner are both such excellent guides. They were always cheerful and helpful and went out of their way to be certain that we were seeing the birds and were as comfortable as possible. They worked so hard to find all of our desired birds for us. They included all members of the group in the conversations.... I would happily go on another tour with both of them! Office service was excellent." M.P., ARIZONA NIGHTBIRDS & MORE
Photos by Tom
Below is a link to some of Tom's work we think you'll enjoy:
Tom's photos and audio recordings on the Macaulay Library site
Tom's Upcoming Tours