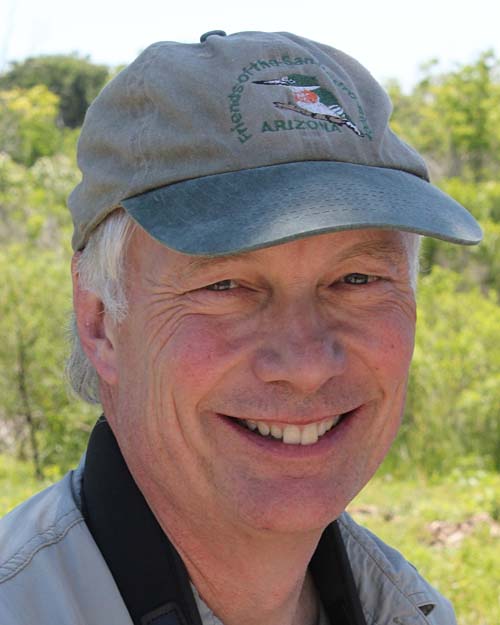 John Coons combines birding excellence with a natural ability as a tour guide. He has been leading tours since 1985. Since then, his great group skills, attention to detail, easy laugh, and unfailing sense to spot (and remember!) what's fascinating in things large and small have brought delight to innumerable Field Guides participants on tours from the High Arctic to the tip of South America and throughout Australasia.
When not on tour, John enjoys exploring and birding the remote mountains, canyons, and mesas of his home in northern Arizona. His ambition of developing a completely sustainable yard of native wildflowers, grasses, trees, and shrubs is a goal that consumes more time than expected each spring and summer.
Scroll down to see John's current schedule of tours.
Client comment
"John's knowledge is thorough and extensive. He knows the habits of the birds we are looking for and where to find them, making it much more likely that we will see them. He's organized and attentive to details, making the trip as smooth as possible for all guests. His gentle sense of humor and his anecdotes sharing during bus rides add to the enjoyment of the trip." D. & E.T., AUSTRALIA
"I'd heard wonderful things about John and they were all true." J.M., NORTHERN ARIZONA'S CANYONS & CONDOR
"All aspects of the tour met or exceeded my expectations. A wonderful leader, interesting new locations, and great birds. John Coons was wonderful, both in his birding skills of course (and his knowledge of Arizona flora and fauna, among other things), but he is also a very personable leader, with fun stories and a good sense of humor. He worked hard to find and get everyone on every bird, and was great company while in the field. He was also great at communicating our agenda for the next day each evening (something I really appreciate). I would definitely do another trip with John in the future." G.J., ARIZONA: BIRDING THE BORDER
John's Upcoming Tours