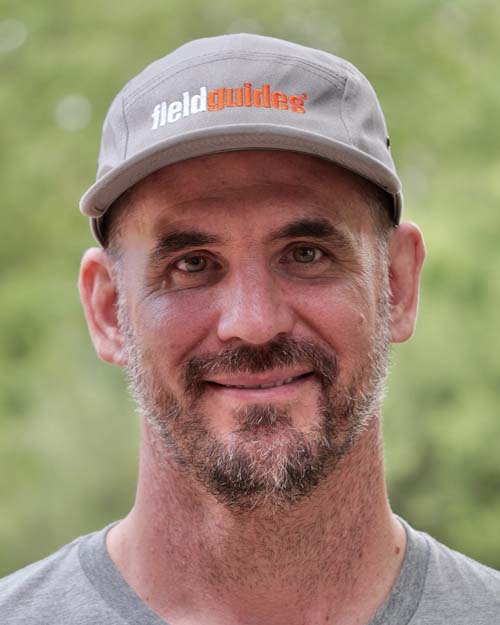 Jesse Fagan (a.k.a. the Motmot or just "Mot") has been passionate about birds since his teens, when he had an encounter with a flying Pileated Woodpecker. He has birded extensively throughout North America and in 2016 published the Peterson Field Guide to Birds of Northern Central America (Houghton Mifflin Harcourt) with co-author Oliver Komar and illustrators Robert Dean and Peter Burke. In addition, Mot has experience in many other areas of Central and South America, Europe, and Africa. He likes to think he can bird anywhere at any time and still show you the birds, but most importantly, a good time.
Jesse holds a B.S. and an M.S. in mathematics from Texas Tech University. He is currently living in Lima, Peru with his wife, Rocio.
Scroll down to see Jesse's current schedule of tours.
Did you know our guides and staff are posting videos as a break from the news?
We've created a Take a break with us... web page where guides and staff are posting fresh videos regularly about what they are up to during this stay-at-home period. Check it out at this link (and give yourself a little diversion from the news cycle).
Client comment
"Jesse is a top-notch birder; his spotting skills are incredible--and almost as importantly, he's excellent at getting people in the group on the birds he's spotted. He's also well-organized, good at handling group logistics, and has a flaming sense of humor, all of which combine to make the tour both rewarding and a lot of fun." S. G., MACHU PICCHU & ABRA MALAGA, PERU
"I'd travel with guide Jesse Fagan again in a heartbeat. He has it all when it comes to guiding. He has excellent birding skills and knowledge...Jesse is a leader and does a great job organizing the trip itinerary, getting us birders from place to place, and seeing to our accommodations. He works well with people at the lodgings, with local bird guides, and the trip participants. Your office service was excellent -- complete, thorough, polite, helpful." C.B., GUATEMALA: SHADE-GROWN BIRDING
"Jesse Fagan is a first-rate guide, combining a great ear and eyes with a congenial personality. He manages the group well while being fun to be with. His organization skills matched his birding skills. We are already signed up for another tour with Jesse. Field Guides is always the best." C.B., PERUVIAN RAINFORESTS OF THE TAMBOPATA
Video from Jesse's tours
Enjoy a video from our 2020 "Central Mexico & Baja: Birds, Butterflies & Whales" tour — great fun!
Jesse's Upcoming Tours