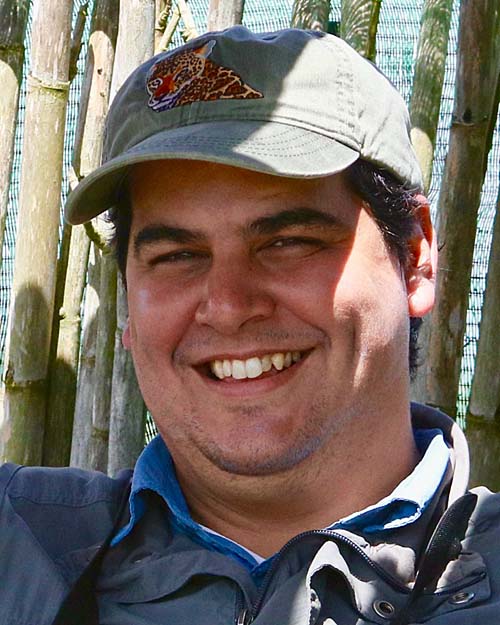 Marcelo Padua, born in Belem at the mouth of the Amazon, spent his free time growing up on his uncle's farm in a rainforest reserve observing everything from insects to mammals and birds. Following university, Marcelo entered law school, but working as an English-speaking naturalist-guide made clear to him that birding was more than a hobby!
In 2009 he embarked on a fulltime guiding career with Field Guides. He guides many of our Brazil tours as well as his birds-and-wines addition to our Birding Plus tours, and his schedule now also includes Spain. With his great sense of humor and love of birds, Marcelo has become a most popular and highly respected guide. He makes his nest at the crossroads of the Pantanal and the Amazon in Cuiaba with his wife, Ana.
Scroll down to see Marcelo's current schedule of tours.
Have you checked out our new OutBirding with FieldGuides video series? It features episodes covering not just guided tours of great birds and habitats but also interviews with fascinating bird-folks, field techniques, tools of the trade, field recipes, and much more. This is a long-term venture that will share much of what our guides love about birds and birding, both their own experiences and their tips for enjoyable, enriching field time. Why not subscribe for a modest annual or monthly fee?
Client comment
"Marcelo Padua was the best feature of the tour. His expertise was exhibited daily and ceaselessly. He is an expert at his profession, a diplomat, and his obvious enthusiasm for what he does is much appreciated. Marcelo is second to none and heads above most other guides with whom we have traveled." J. K., JAGUAR SPOTTING IN BRAZIL
"Marcelo has a remarkable birding ear. I am a good birder and am a field ornithologist by trade, and I was amazed at the birds he was hearing way, way out there. The fact that he is a Brazilian and appears to know almost everyone on the tour route was a major plus--not only did he interact with the service providers supremely well, but by being Marcelo he managed to iron out any travel and logistical issues wit apparent ease. I cannot think of a better guide to re-introduce me to Brazil than being on a trip with Field Guides and having Marcelo as a leader--muito obrigado, Marcelo." R. D., SAFARI BRAZIL: THE PANTANAL & MORE
"Several friends recommended Field Guides and Marcelo Padua in particular. As a birder, I was intrigued by the new species I could see but the jaguar was the clincher. This was an amazing tour. Everything was so well organized, down to the 'seemingly' insignificant details. Marcelo was by far the best tour leader I have encountered. He really went above and beyond both with sharing his birding expertise and smoothly handling every detail or problem. His patience was infinite! We all saw every bird. And his sense of humor was a delight." N.H., JAGUAR SPOTTING IN BRAZIL
Marcelo's Upcoming Tours