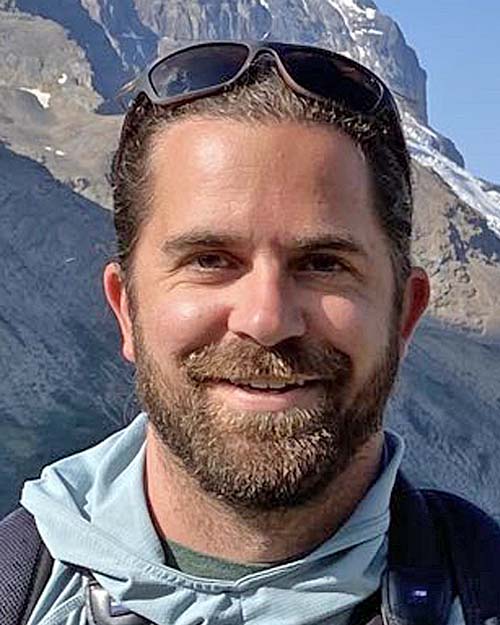 Sam Wilson grew up in New Jersey and had his spark moment as a young adult visiting Hawk Mountain Sanctuary. On his first visit he witnessed an epic migration of 10,000 Broad-winged Hawks as they took to the skies over the Appalachian ridges. He was hooked, and his fascination with bird migration has only grown.
Sam spent four years working in Cape May, New Jersey, for New Jersey Audubon developing bird migration programs for school groups and families and leading group trips for Cape May Bird Observatory and New Jersey Young Birders Club. He enjoyed a stint in the Hawaiian Islands doing breeding bird surveys in the remote Alakai Swamp for the Kauai Forest Birds Recovery project (though his gear didn't recover!).
Eventually, wanderlust led him to Alaska, where he led backcountry trips focused on birds and wildlife in Denali National Park, as well as guided trips for birding festivals along the Kenai Peninsula and Copper River. He has since led group trips as a naturalist-guide in most regions of the country with a special focus on National Parks and Wilderness areas. Sam is an eBird reviewer in Alaska and contributor to both Cape May Magazine and ABA's Birding magazine.
When not experimenting with flight photography, investigating nocturnal migration, or researching biodiversity hot spots, Sam enjoys backpacking, growing super-hot peppers, discovering new music, and creating experimental dishes (usually Asian cuisine). Sam and his wife, Margeaux, have spent months traveling around the world seeking out rare birds and wildlife. They currently reside in Anchorage, Alaska.
Client comment
"Sam is a great birder and is a wonderful addition to your organization. He offered an abundance of helpful ID information and helped make sure everyone got the additional help or attention they needed to see a bird. We all enjoyed him immensely, and he and John Coons made a great team!" A.R., TEXAS COAST MIGRATION SPECTACLE
"Sam is an expert guide and one of the best spotters we've ever experienced. He was great to get us on hard-to-see birds. He worked well with all the participants and was knowledgeable about the birds and plants." A.D., TEXAS COAST MIGRATION SPECTACLE
Sam's Upcoming Tours
MEXICO: OAXACA VALLEY
Status: Open
Mar 2-9, 2024 ($3450) with Chris Benesh & Sam Wilson
Tour Limit: 14
Superb birding with two dozen Mexican endemics and fascinating ruins while based in lovely Oaxaca City.
May be combined with Mexico: Oaxaca's Atlantic & Pacific Slopes
ALASKA: THE GREAT LAND
Status: Provisionally full; waitlist available
Jun 5-21, 2024 (Fee TBD / 2023=$12350) with Micah Riegner & Sam Wilson
Tour Limit: 14
Our fabulous survey of the best of Alaska birding: the Pribilofs, Kenai Fjords, Nome, and Utqiagvik (formerly Barrow).
LOUISIANA: YELLOW RAILS & CRAWFISH TAILS
Status: Open
Oct 31 - Nov 4, 2024 (Fee TBD / 2023=$2175) with Dan Lane & Sam Wilson
Tour Limit: 14
Late-autumn tour on the Gulf Coast targeting Yellow Rails and other migrants and wintering species of the region.