Rich forests from the foothills to treeline are accessed from good country hotels and comfortable ecotourism lodges at some of Colombia's best private reserves. Many Colombian endemics expected, but the tour is primarily an opportunity to gorge on the birds of the Andes after a short flight across the Caribbean.
Medellin is a thriving, modern city of millions. We will perch on its edges as we go in and out of the city, starting to the east in the foothills of the Central Andes, where the Rio Claro preserve provides access to many lowland birds of the valley of the Rio Magdalena, hopefully with White-mantled Barbet, Beautiful Woodpecker, and Dusky Ant-Tanager (not entirely dusky!) interspersed among a series of raptors, trogons, toucans, antbirds, manakins, wren, and tanagers. Returning to Medellin, we'll visit a park above suburban Sabaneta that is home to the fabulous Red-bellied Grackle (a forest icterid), Colombian Chachalaca, and Yellow-headed Manakin (a real challenge to spot).
Crossing through the dry forests (think Antioquia Wren) of the Cauca Valley will bring us to one of the wettest regions on earth, the montane Choco of the Western Andes. Three nights at ProAves' famed Las Tangaras reserve will give us time to savor the luxuriant cloud forests that harbor many specialties of the Choco biogeographic region. Colombian endemics include Munchique Wood-Wren, Crested Ant-Tanager, and Black-and-gold Tanager, along with many Choco specialties shared with northwestern Ecuador: Empress Brilliant, Toucan Barbet, Fulvous-dotted Treerunner, Orange-breasted Fruiteater, Choco Vireo, Beautiful Jay, Black Solitaire, Glistening-green and Purplish-mantled tanagers, Indigo Flowerpiercer, and Yellow-collared Chlorophonia.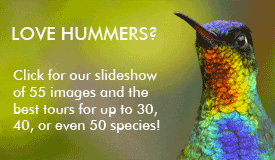 Our last destination in the Western Andes is Jardin, our base for a search for the endangered Yellow-eared Parrot. While the parrot, the size of a small macaw, is the quest, the journey is fun: We'll be birding for mixed flocks in the montane forests while listening and looking for two quetzals, scanning for Black-billed Mountain-Toucan or Chestnut-crested Cotinga, and visiting a lek of the spectacular Andean Cock-of-the-Rock.
Oh, yes, Colombian coffee with your meals is included in the tour price!
Download an itinerary, triplist(s), request space, and see more about this tour...